Literacy is the most essential prerequisite for individual empowerment. It plays a very important role in any person`s life, irrespective of gender. It not only enhances the quality of the life but also instills awareness and improves the skills of people.
What is literacy?
Literacy is the ability to read, write and comprehend information in a constructive way to communicate effectively. From reading the textbooks, scriptures to newspapers, and understanding road signs literacy is the only tool that helps you make sense of your surrounding and helps to broaden our mindset and perspectives.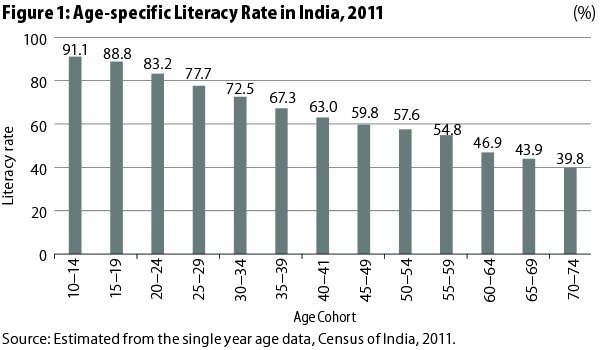 The knowledge of social conventions combined with the problem-solving capacities of people is what determines them as being literate. However, it is a miserable fact that in India a girl`s education is still in an oppressive stage. Despite much evidence demonstrating the importance of education for everyone, gender disparities in education persist.
About 129 million girls are out of school. And in countries that witness conflicts, girls are more than twice as likely to be out of school as girls living in non-affected countries.
According to UNICEF.org, "only 49 percent of countries have achieved gender parity in primary education. At the secondary level, the gap widens: 42 percent of countries have achieved gender parity in lower secondary education, and 24 percent in upper secondary education."
Many few people understand the grand impact that a women`s education has on society. Here are a few that we would like to mention:
1. Educated Nation
It is said that one literate man is just one literate man, but when one woman gets an education, she makes the entire family and an entire country educated. A young girl, who goes to school to receive education unmistakably guaranteeing education for her kids and thus benefits the country by contributing to the economy.
2. Reduction in Child Marriage
Though the prevalence of child marriage has decreased worldwide, one in four girls who were married a decade ago was a child bride. Before the COVID-19 pandemic, more than 100 million girls were expected to marry before their eighteenth birthday in the next decade. As a result of the pandemic, up to 10 million girls will be at risk of becoming child brides. Child brides often get pregnant at a young age and put themselves and infants at various risks. It takes a heavy toll on their psychological, and physical well-being.
3. Promotes Development of Skills
An education that is equal to all empowers girls and boys equally. It helps to impart knowledge and information and promotes the development of life skills- like self-management, negotiation, communication, and critical thinking that plays a significant role in young people`s life to succeed.
It reduces the skill gaps that give birth to pay gaps, and gradually results in prosperity for entire countries. A gender-equitable educational system can reduce gender-based violence and harmful practices including child marriage and female genital mutilation.
4. Population Control
Educated couples are much more likely to do child planning by keeping their family income in mind. This will help them to lead more progressive lives, increasing the expectation of living for their families, children, and social networks.
Literacy constitutes the backbone of development in a progressing country like India. But there are crores of children that are out of school in India and hence, the Indian Education System needs to build a better life for children to make our nation a progressive country.